SPORTS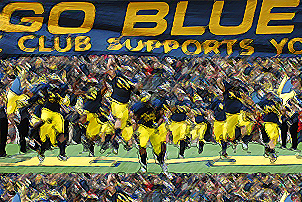 Ann Arbor is most notably a college town, and that comes with ample opportunities to take part in or observe some great sports action at the local level, regardless of what sport you might enjoy the most! With all of the electric energy surrounding this town, you can only imagine how exciting sporting events can be, especially if they're a part of a long standing college rivalry! With all of the opportunities to watch live sports, you owe it to yourself to enjoy some friendly competition in the most comfortable way possible. You're sure to create memories to last a lifetime when you decide to have a sports adventure in the area. We're here to let you know why it's always a good choice to rent a limo bus or limousine for your next sports outing in Ann Arbor, as well as reasons why we're the best company to rent from in the Ann Arbor area.
Tailgating in Ann Arbor
Going to see a sports game in Ann Arbor comes with its own set of challenges. You're always going to run into some sort of traffic situation or tricky parking obstacle in this crowded metropolitan area. If you're lucky, you'll miss construction, but let's be real here...it's Michigan and unavoidable! Sporting events are happy events that are often celebrated with alcoholic drinks, so there's also the issue of assigning a designated driver for the night. Plus, if you aren't driving yourself...where are you supposed to go if the weather goes awry? One great way to avoid the headache of finding accurate directions and navigating all of these miscellaneous issues is to rent transportation with Ann Arbor Limo Service. You'll have proverbial shelter from the storm or elements, a knowledgeable driver to get you home safe and sound, as well as some of the very best features for entertainment on the roads of Ann Arbor.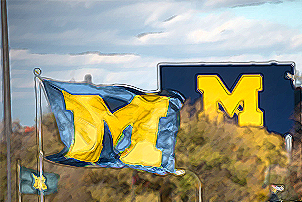 No worries...just fun!
There's a lot that goes into celebrating sports in Ann Arbor! Not only is there the game itself, but there are also the tailgating parties that happen before and after the fact that are worth checking out or taking part in. This is where a lot of the action happens! You could try to find a party to crash, or you could make your very own and make memories to last a lifetime! A limousine or limo bus is the perfect way to enjoy tailgating with friends before or after the game. Here at Ann Arbor Limo Service, our buses come with all of the amenities you need to have a successful party! How can you go wrong with ice compartments for all of your drinks, cup holders to ensure no spills, television screens for extra entertainment, professional stereo systems complete with sub woofers and iPod/MP3 capability, dancing poles for the wild ones, night club style lighting and hardwood flooring for dancing?
Set Up Your Trip
Ann Arbor Limo Service has a record of keeping customers happy from start to finish! Our fantastic customer service starts when you call for information regarding your trip, and it continues with our knowledgeable drivers. They ensure that you're completely taken care of when it comes to your special event, and they even know some great spots for tailgating if this happens to be your first time celebrating sports in Ann Arbor. Professionalism is the name of our game, so we take our customer service very seriously. The end result is an experience on the road that is entirely unmatched! If we've convinced you to consider a tailgating trip in Ann Arbor, don't be shy! Give us a call the next time you have a free minute, and we'll give you all of the relevant information you'll need to set up your trip. It helps if you let us know where you're going exactly, when you'll need service, and how many passengers you think will be tagging along. It only takes us a minute to get you a price on your trip, and you'll certainly be happy with our affordability compared to other transportation services in the area. Give us a call, and we'll take care of the rest! Your sports experience is about to be an unforgettable one.