WEDDING BANDS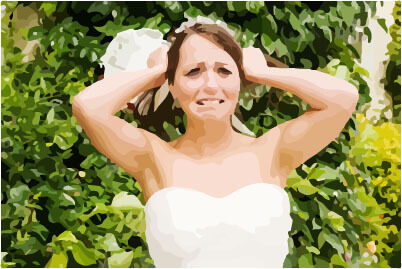 So you want to hire a band?
Live music is a great way of making any event much more fun and exciting. Music is a universal language that every culture in the history of the world speaks so there's no wonder that people are memorized by a live musician performing their craft. Music requires special detail when it comes to weddings. Certain rules do apply in order to execute the discovery of the perfect wedding band regardless of what type of music you are in search of for your and your guests to enjoy your special evening.
Let the search begin…
Be sure to begin your search so that you have enough time to find a band by the big date. A common mistake a lot of couples make is assuming that it will be incredibly easy to find a band or that a band they already like will be available on their preferred day. The more notice you can give a band, the easier it will be to book them. Obviously word of mouth is the best source of referrals so ask around and see if anybody has used a band for their wedding. One mistake we often see is the use of such phrases like "Does anybody know of a good wedding band?" on Facebook. You don't want to ask that. Why? Because that opens up the invitation for responses from anybody that knows of a band who plays weddings. Not necessarily the best. One trick we suggest employing is phrasing the question in a way that prevents that. For example, ask "Has anybody been to or had a wedding with a great band?" This narrows down the type of responses you'll receive to those who have actually witnessed a band in real life as opposed to just promoting a friend, coworker, or brother.
Consider using an entertainment agency
Sometimes using an entertainment agency comes with a bit of an inflated price tag but it does come with some benefits. Namely the fact that agencies will work with you to determine exactly what kind of musical flavor and budget you have in order to find the perfect musician or band. Of course one bonus with an entertainment agency is the fact that you can often times see videos, hear recordings, and even attend functions in which the artists are performing.
If and when you do find a group or artist that you enjoy, make sure that you get what you pay for. In the contract with the entertainment agency, be sure to verify that you're not just signing up for a "male singer" who is part of a "5 piece rock band" but instead you are signing a contract for the singer and band whom you saw live, in an audition, or on video. This ensures that you get what you pay for and that the band that "wowed" you the most is exactly who is performing on stage at your wedding.
Think about the size of the venue
Sure it might be nice that you found a twelve piece band that is within your budget and rocks the house. But if the venue you're having your wedding reception at can't accommodate a twelve piece band then it's probably not the best choice. Even if your venue can accommodate groups that large there are other issues to consider. Does the band have a piano player? Are they an acoustic group? If they're an acoustic group it might not be possible to gain access to a piano when a keyboard simply won't do. For other band options outside A2 try Wedding Bands Lansing.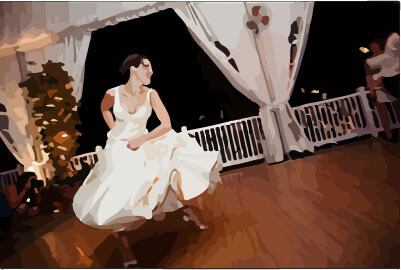 A good rule of thumb in regards to hiring a great, well-rounded, wedding band is that they'll have anywhere from 6-10 band members. They'll include musicians such as piano/keyboards, bass players, drums, guitars, possibly horn sections like sax players, trumpets, or a trombone, and at least a few singers. Some bands even have multiple lead singers (Male / Female, Low / High, etc). Consider all of these factors when booking the band that you fell in love with.
What happens when a band takes a break?
Every band, no matter how experienced they are, has to take a break during a set that can last up to 4 or 5 hours. Generally a band will play for about 45 minutes and take a 15 minute break or so. Sometimes wedding goers are lucky enough and the band is large enough so that specific members can take breaks at specific times, leaving them with an endless stream of music all night. However, not all wedding bands have that ability so it's important to ask your band what happens when they take a break? Is there silence? Do they toss on a CD? Do one of the members DJ? Is there jazz that plays? It's important to know what will happen when they take a break. A reputable band will have a plan of action and they'll be able to tell you what happens.
Summing up
Of course personal preference, budget, and venue size are all factors that come into play regarding your wedding. Make sure that you consider each and every one of those items when you're shopping for the band that is going to get the party started at your wedding. There's nothing better than live music so why not hire a band that fits all (or most) of your needs and dance the night away? If you're interested in blues rock and a great, family friendly band for your wedding, then check out Ann Arbor's own Jerry Mack & The Terraplanes. They're a rhythm & blues that rocks the house and will drive your wedding to a dance-fueled climax. For more information, please check out their website. Do you have any tips regarding hiring a wedding band in Michigan? If so let us hear them. We'd be happy to update this article with more great information!