WEDDING PHOTO BOOTHS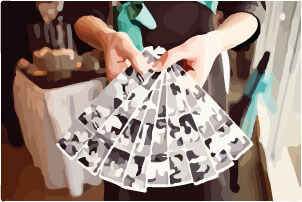 Photo booth rental is a hot trend in regards to weddings or any other event where large groups of people gather. They can be a great way to break the ice for a couple or group of people who might need a bit of a boost in order actually begin to letting loose. A couple of factors can help with this. The first is the fact that seeing other people act goofy in a photo booth allows for one to feel more comfortable acting the same way. Once the fun times begin, it's nearly impossible for them to stop.
We've compiled a list of a few things to look for if you're on the lookout for renting a photo booth for your own wedding. Think of it is a checklist that you can go over with the photo booth service in order to find out if they're able to provide exactly what they say they are going to provide. That way you know exactly what you're getting and the company you choose can leave you and your guests with a great number of memories!
Things to consider before hiring anybody:
Do they print the photos on site or do you get them after the wedding?
Believe it or not, in this day and age of "immediate gratification" some photo booth services do not print their photos on site. This may cause some surprises for guests if they're expecting to walk out of the wedding reception with a couple of cool photos. That's not to say that there is not something to be said for a photo booth service that takes the photos from an evening back to their office and packages them up into a nice pretty book, package, or decorative collection for you or your guests. That's a very great service to offer, but if you're expecting a tangible object at the end of the evening, then it might not be ideal of it's the only service that the company you hire provides.
What kind of quality does the vendor offer?
As a party bus service we're constantly battling people who call us for quotes and reply with "Company X gave a quote that is cheaper by $400." Our response is simply to warn the person on the telephone that just because they are the most affordable does not mean they are the best. In fact we say, "Affordable is a quality product or service provided at a fair price. Cheap is a low quality product or service provided at an inflated price." If one saves $400 on their service for the evening but the air conditioning doesn't work or the vehicle breaks down (it happens believe it or not) did the consumer really save? Absolutely not. That is the case with any product, especially photo booth rental.
Ensure that the quality of the photos delivered by the photo booth vendor is up to par with whatever your expectations are. If, for some reason, you are particular about the type of paper that they use, let them know and see if they offer that as an option in another package, or if you can simply cover the cost of the specialty paper in order to fit your needs if no other companies can offer it for you. Do keep in mind that the professionals know best so if they tell you that a type of paper is not ideal for photos, please respect their knowledge.
One photo booth vendor that we consider to be tried and true in our history of providing service for wedding across the state of Michigan and beyond is Awesome Booth. They are a family owned business who gives it their all in regards to engaging with guests, making the event fun, and providing quality photos after each and every flash, so be sure to check them out if you're not sure where to start.
Do they offer props?
Most reputable photo booth vendors offer various packages. Some include a "props chest." You've seen it before. They offer large bow ties, funny hats, feather boas, and all of those fun masks and glasses. They really make some pictures a thousand times more enjoyable. However, if you're expecting e very company to offer that kind of feature, we have to let you know that it's not always the case. In fact, many of the cheaper companies simply don't offer that at all. So make sure you ask them if they do if you're interested in something like that.
All in all, if you do a bit of research and make sure that you ask the right types of questions, you'll be sure to find a photo booth rental that can accommodate each and every one of your needs. Ensure that you're going to have a great time by making sure all of the vendors you hire and products that you purchase not only meet but live up to the expectations that you have prior to ever allowing them to step foot near your wedding. For those in Michigan try out Photo Booth Michigan.